Happy Hump Day everyone!!! It's that special time of the week again where it all gets a little bit crazy at the party.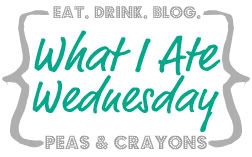 Yesterday I was up at the crack of dawn to hit the gym for my strength training workout. After working up a sweat and putting my muscles through their paces I thought a protein packed green smoothie in a bowl would make the perfect breakfast.
A frozen banana, lots of spinach, a russet pear, water, lucuma powder, maca powder, double fudge crunch protein powder, xanthan gum and guar gums. I decided to tone down my toppings on this particular smoothie, I know what's wrong with me?!?!? 🙂 I just sprinkled on some vanilla, almond and agave granola and some dried cranberries. Usually I hit up the toppings hard, but for some reason yesterday I was more for tasting the smoothie alone, so that's what I did.
Not only is Wednesday WIAW day, but it also means that I need to get my ass out of bed and head out for my morning run. Today I ran 6 miles in 57 minutes. I was supposed to be aiming for 10k, but must have misjudged my distances somehow. It was so cold out it felt like Autumn already! Right now as I type this I'm wearing a vest top, a jumper, a cardigan and a scarf…it's freezing! What on earth has happened to our summer in the UK?!?
Anyways, it was time for another smoothie in a bowl. This one included a frozen banana, peanut butter (and much more peanut butter), organic cocoa powder, hispi cabbage leaves (stems removed), mesquite, lucuma powder, hemp protein powder, water, xanthan and guar gums. I loaded up on the toppings this time with carob covered raisins, a raw breakfast biscuit, shredded coconut and goji berries…yum!
Lunch yesterday and today was a simple salad made using curly lettuce, steamed shredded veggies which included carrots, cucumber and broccoli, clear spring teriyaki crackers, roasted edamame beans and almond and basil pesto.
Afternoon snackage to keep the energy levels up came in the form of a delicious persimmon and a Nakd gingerbread bar.
I think the gingerbread flavour is one of my all time favourites that and the cocoa orange and the much coveted banana bread bar. I just can't seem to get my hands on the banana bread bar as readily as I can all of the other flavours!
I've also been snacking on lots of delicious cherries too. I love this time of year because all of the berries just taste amazing and cherries are at their very best too.! I had a very happy belly after eating all of these lovelies. 🙂
* Simple Vegetable Coconut Curry*
This was so quick and easy to make and is a great way to use up all of those veggies that are no longer at their best! I picked up a new and interesting vegetable that I was dying to use, a mooli raddish or some of you may know it as daikon.
Ingredients (vegan, serves 2)
1 mooli raddish cut into batons
2 small white onions
1 clove of garlic grated
1/2 cup of edamame beans
2 cups of spring greens
2 tsps of hot madras curry powder
1 tbsp of soya sauce
1 tsp of dried coriander
1 tsp of turmeric
1 vegetable stock cube
1 can of coconut milk
3 tbsps of soy yoghurt (optional but adds extra creaminess)
cashew nuts to garnish
First fry off the onion in a pan in a little canola oil (or any oil of your choice) until softened. Add the mooli batons and cook for a few minutes. Stir in all of the spices and grated garlic to coat the vegetables and then pour in the coconut milk. Also at this point it is ok to add the stock cube and the soya sauce. Allow the curry to simmer for 1o-15 minutes before adding the greens and edamame bean to let the mooli cook through. Simmer for a further few minutes to ensure all of the vegetables are tender and cooked. Take off the heat and stir in the soya yoghurt.
Serve and sprinkle with cashew nuts, and more importantly…enjoy!
Last night for dessert I enjoyed some chopped strawberries and blueberries alongside some very delicious chocolate. I raided my Lindt stash and opened up a bar of Fleur de Sel Caramel. One word. Beautiful!
Before I go I would also like to mention the Cosmopolitan Blogger Awards 2011. I think that it's such a great opportunity to show our support and love for all of our favourite blogs. You can nominate all of the blogs that you love .
Happy WIAW everyone! I hope you are all having a great week! 🙂
Have you picked up any new and interesting ingredients to cook with recently?
What is your most favourite flavoured chocolate bar?
What is the best thing that you ate this WIAW?!?